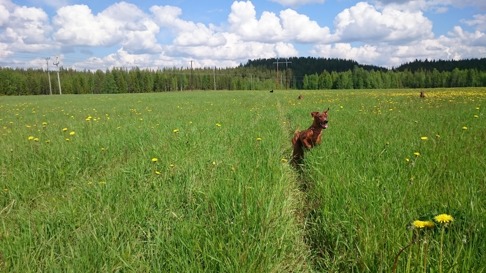 Kennel Yrkraft's breeding goal is to breed healthy, sound, well-balanced and playful dogs who is both suitable for working with and companionship and follows the exterior standard.
This we strive for in our breeding work by:
Using sound and health tested dogs.
health tests we do: Pinscher (P) Miniature Schnauzer (D)
Hips (P)
Elbows (P)
Eyecheck (PD)
Von Willebrand (hemophilia) is made if the dog is not free from predispositions by parents. (P)
Diluted (diluted color) at unknown genes (P)
Mentality
We use and combines dogs that we think will give offspring that meets our requirements mentality.
Official mentality evaluations we use:
Mental decription(MH)
BPH
Mental Test (MT)
We try to keep a low inbreeding of combinations of Pinschers because it is a relatively small breed.
Exterior appearance
Head and expression, clear sexual characteristics and balance in the body without over or understatement.
All dogs we use for breeding are officially exterior evaluated through shows or other official evaluations with werry good results.
The turnout, what was the result in the end?
Among the most important thing in the breeding work is the breeding evaluation.
Therefore, we wish that our puppie buyers want to keep in contact with us and participate in our kennel puppie meetings and helps us and the breed by doing the required helth checks: x-ray hips, check eyes, attend a show and if possible an official mental evaluation.
Breeding is not an exact science, one can never be sure that the end result turnout as expected.
There are many different factors that come into play.
Our goal in all combinations we do is to bring something good in to our breeding work and for the breed as hole.