SeUch NOUch Yrkraft´s Arez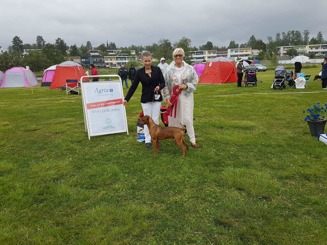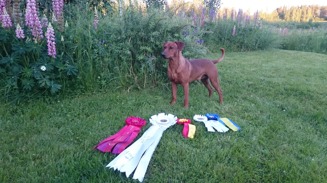 Reg:SE32429/2014
Född/birth: 2014-04-17
höjd/hight: 48 cm
vikt/weight: 18kg
Far/e: lp1 lp2 S Uch Rivendells Alpha
e: SE Uch SE V-00 SE V-01 Lilla Enebys Leonardo
u: NO V-04 SE Uch Lilla Enebys Quiz

Mor/u: C.I.B NORD Uch Elenya`s among the stars of sienna
e: Se V-09 Oakwoods In The Nick Of Time
u: Troja
Mentality: bph 2016-06-01 mh mentaly decribed 2016-10-16
hd/ hips: A excellent free
ed/elbows: 0 free
Öga/eye: ua free 2015-08-07
Vwd: fri från föräldrar/ free from parents
Diluted: DD free
Bett/theeth: korrekt sissor, missing one p1 upper jaw
no vaccination complications
utställning/show: SEUch NO Uch BIG1(2016)
tävling:
träning/training: obediance, tracking, nosework
Arez är efter min egen tik och vår första pinscherkull och bor hemma hos mej.
Han är min första pinscher hane och har en stor personlighet. "Pratar" mycket, lekfull, lättsam och trevlig, arbetsglad älskar att mysa, har lätt för att koppla av inomhus och kommer bra överrens med andra hundar.
Arez bor med en annan äldre hane och tre tikar.//

Mild tempered and easy, big personality, playfull and a joy to work with.
Lives with one older male and 3 females.